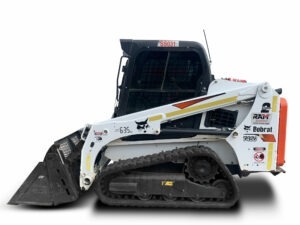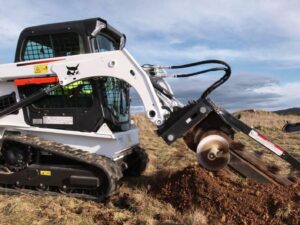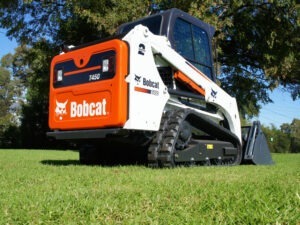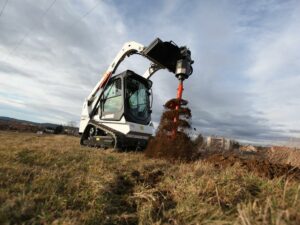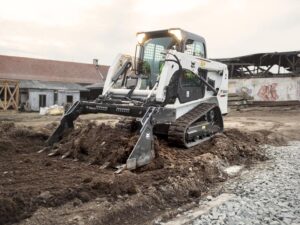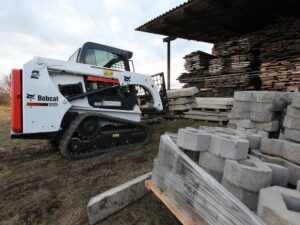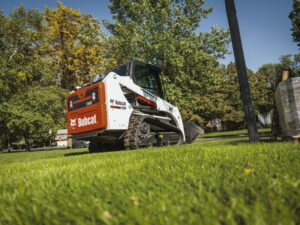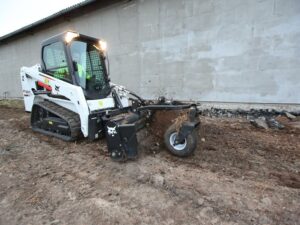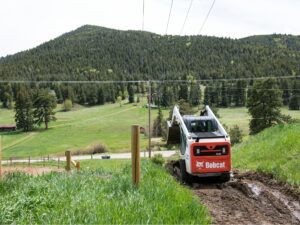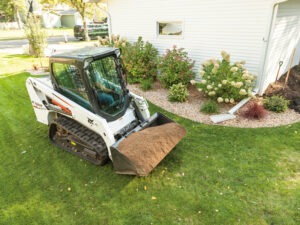 Available for hire from RAM Equipment, the Bobcat 4 Tonne Skid Steer is ideal for tasks that require greater lifting capacity such as dumping over walls, backfilling or unloading flatbed trucks.
Auxiliary hydraulics
Bob-tachTM frame
Bobcat interlock control system (BICS)
Noise reduction kit
Lift arm support
Variable flow/ maximum flow
Simply add the equipment and attachments you would like to hire to your cart. Our team will then be in touch with pricing, confirmation of availability and to arrange for delivery. It's that easy.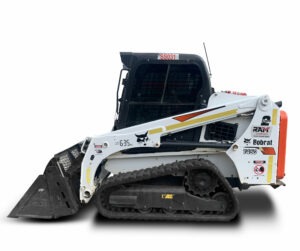 Note: pricing includes GST and a 1% environmental levy
Brands
Dimensions & Weight

Overall Length: 3,216 mm
Overall Height: 1,976 mm
Overall Width: 1,422 mm
Operating Weight: 2,789 kg
SWL: 635 kg

Range

Max Bucket Pin Height: 3,604 mm
Max Dump Height: 2,781 mm

Approximate Fuel Consumption

10.5L/hr

Transport Method

Tilt Tray
The Bobcat 4 tonne skid steer (T450) is an exceptional little skid steer loader, perfect for those jobs that have tight worksites.
UNBEATEN PERFORMANCE
With new two-speed operation, move faster and get the job done sooner. This time-saving feature boosts your top travel speed by as much as 57%. What's more, thanks to the tracks, the weight is spread out over a wider area for increased floatation, minimal ground disturbance, higher pushing for and better lifting of larger loads.
Lastly, this Bobcat 4 tonne skid steer has a low ground pressure that allows you to work more productively in soft, sandy, wet or muddy conditions.
UNCOMPROMISING COMFORT
All-around visibility is central to the design of the cab on the Bobcat 4 tonne skid steer loaders. Comfortably see your work from the seat through a single, curved pane of glass that delivers as much as 50 percent more glass surface area than other manufacturers.
What's more powerful lighting gives you a great view for night operation. A pressurised cab keeps dust to a minimum, keeping operators clean and comfortable, whilst its smart fans ensure better cooling in extreme conditions.
ULTIMATE OPERATION
The Bobcat 3 Tonne Skid Steer offers faster cycle times thanks to hydraulic pumps matched to cylinder size and loader lift capacity. In addition, the optional hydraulic bucket positioning keeps your bucket level, reducing spillage, allowing you to work more efficiently.
Features include heavy-duty materials, component protection, and minimal moving parts, increasing the service life of your loader, making this skid steer highly durable.
ABOUT BOBCAT
Since inventing the world's first true compact loader in 1958, Bobcat has constantly improved on its original concept: a tough, agile and versatile compact machine that can tackle an incredible number of jobs. If you need to work quicker, lift more and outperform the competition, Bobcat compact track loaders are a great choice.
We stock a range of track and rubber skid steers for your dry hiring needs. Contacts us today for the best price, quality and service.
The RAM Difference – we do more, so you can too!
RAM Equipment is a specialised equipment hire company. Our dedicated team is committed to exceeding your expectations. As your efficient equipment solutions specialists, we will work closely with you to plan and execute your project, ensuring you have the most efficient machines for the job. We also have a wide range of attachments to suit.