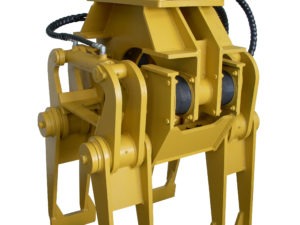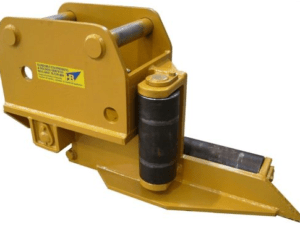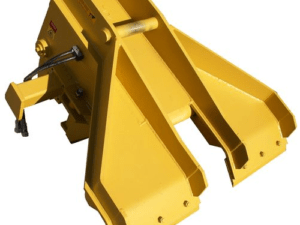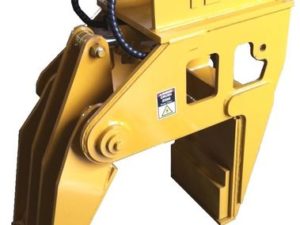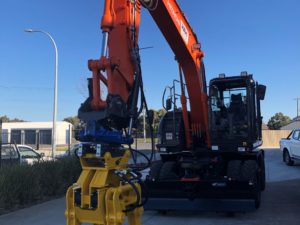 Available from RAM Equipment, hi-rail attachments are ideal for a number of applications when used with our hi-rail wheeled excavator.
This product is customisable and made to order. Please complete the enquiry form below and our team will be in touch with options within 24 business hours. 
The hi-rail attachments from RAM Equipment feature a quick hitch and can be used with a tilt rotating head for maximum flexibility and manoeuvrabilty. These attachments are ideal for use with our 17 tonne Hitachi wheeled excavator.
Bullant
The Bullant grab lifts and manoeuvres a range of objects including steel, or timer rail sleepers. The grab can also be used for the side insertion of sleepers.
Rubber pads are included for use with concrete sleepers which can be removed to suit individual user requirements and applications. Steel pads are also available as an option for wooden sleepers.
Platypus
The platypus grab handles concrete sleepers with small 5T-8T machines. It features an inbuilt rubber pad to reduce damage on sleepers and incorporates a parallel jaw clamping movement.
Rail Threader
The rail threader grips under the head of the rail for lift while the hardened point allows the threader to slide under the rail, even through ballast.
The vertical and horizontal rollers provide low resistance support so the threader can slide along the rail, providing lift of the rail on or off the sleeper. This reduces manual handling and the OH&S issues related to moving heavy rail.
Tamper
The 'Tamping Head' Ballast Compaction Unit efficiently compacts ballast following replacement of railway sleepers on railway networks. Four models are available to suit machines from a backhoe to large excavators.
Machine Type
Bullant

Weight: 350 kg

Platypus

Weight: 300 kg

Rail Threader

Weight: 275 kg

Tamper

Weight: 1250 kg
Height: 1600 mm
Width: 900 mm
Length: 2400 mm
Vibrator motor: Max 3000 psi
Vibrator motor flow rate: Range 45 – 120 lpm max flow rate
Recommended flow rate: 80 l/min at 1000 psi flow rate at operating engine revs
Arm cylinders: Max 3000 psi

Availability
The RAM Difference – we do more, so you can too!
RAM Equipment is a specialised equipment hire company. Our dedicated team is committed to exceeding your expectations. As your efficient equipment solutions specialists, we will work closely with you to plan and execute your project, ensuring you have the most efficient machines for the job. We also have a wide range of attachments to suit.