The John Deere ADT 310E is the perfect choice for tough jobs because it has an inter-axle differential lock that can be engaged onsite. It also offers improved safety features like remote parking brake, LED stairway lights, rear chassis dump height adjustment with standard reverse cameras.
Interaxle Differential Lock (IDL)
Hill Descent Control and Transmission retarder
Bin Tipping Assist
Tyre Pressure Monitoring
Heaped capacity of 18.3 m³ with standard tailgate
Dump-height adjustment for powerlines and bridges
Ground Level Daily Checks and Tilt-able Cabin for improved runtime
Simply add the equipment and attachments you would like to hire to your cart. Our team will then be in touch with pricing, confirmation of availability and to arrange for delivery. It's that easy.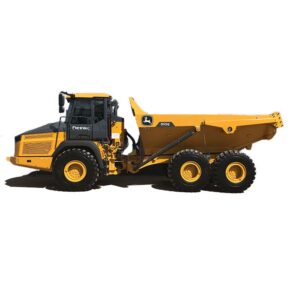 Note: pricing includes GST and a 1% environmental levy
John Deere ADT (30T)
The John Deere ADT truck is an all rounder machine with all the bells and whistles you need to get your project ahead.
With a 28,125kg Rated Payload, the Deere 9.0 Litre engine provides 263kw of power using eight forward gears as well as four reverse to enable the 310E to take on anything with ease!
This enables the John Deere ADT (30T) to eliminate guesswork when declining steep slopes with the automatic descent control.
The transmission retarder makes life easy for the operator, site/project managers, and the machine by reducing the service-brake wear, maintenance time, and operator fatigue.
The John Deere ADT (30T) offers a smooth ride with an adaptive suspension system that manages the ride and cab height. The pressured cabin keeps out the dust and reduces the noise level to 69-decabells.
Along with the quieter work environment that reduces fatigue, the adjustable air-ride seat runs smooth on any terrain.
If you are looking for another type of dumper, browse the RAM Equipment Site Dumper range to suit your construction needs.
To view more information on the John Deere 310E, check out our specification sheet at the top of this page. Alternatively, there is more information on the machine specifics on the John Deere Website.
Brands
Dimensions & Weight

Overall Length: 10,160 mm
Overall Height: 3,660 mm
Overall Width: 2,870 mm
Operating Weight: 22,847 kg

Range

Levelled Capacity: 13,700 L
Headed Capacity: 17,500 L

Transport Method

Low loader
The RAM Difference – we do more, so you can too!
RAM Equipment is a specialised equipment hire company. Our dedicated team is committed to exceeding your expectations. As your efficient equipment solutions specialists, we will work closely with you to plan and execute your project, ensuring you have the most efficient machines for the job. We also have a wide range of attachments to suit.