RAMRADE Skeleton Buckets are highly durable and heavy duty. They have the same profile as general purpose buckets but are built with high tensile bar and ribs (grid), making them ideal for sorting construction materials. Size range from 5 to 37 tonne excavators.
High strength steel with fully welded interlocked ribs
BIS400 strips which reduce wear to the base of the bucket
Side wear plates which help strengthen and extend the life of the bucket
Aperture spacing between 60-78 mm depending on size
Double radius one allows it to sort quicker
Simply add this attachment to your cart to create an online order. Our team will then be in touch with confirmation of availability and to arrange for delivery. It's that easy.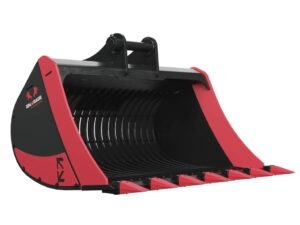 $89.00 - $156.00$2,145.00 - $11,550.00
Note: pricing includes GST
RAMRADE Skeleton Bucket
Our RAMRADE skeleton bucket is heavy duty to make the cleaning segment of your job easy as! With BIS400 strips and side wear plates to reduce the long term effects of fatigue to the bucket. Size options available to fit vehicles from 4 – 37 tonnes with the RAMRADE skeleton bucket aperture spacing varying between 60-78mm.
What's more, they can sieve through material faster and can dig easier, saving fuel and time. Suits a wide range of popular excavator brands: Hitachi, Kobelco, and Kubota
About RAMRADE Attachments
RAMRADE Attachments is a world-class supplier of high-quality attachments to suit your excavator, skid steer, and other earth-moving equipment. They are manufactured to exceed rigorous global standards, and utilizing the most advanced technology.
What's more, these attachments are extensively field and factory tested to produce an outstanding range that consistently delivers. Browse the RAMRADE range. 
Introduced to Australia in 2014, RAMRADE Attachments have established a strong market presence with equipment hire companies, civil and construction contractors, demolition, earth moving and recycling/waste companies.
Backed with technical support and industry leading warranty terms, RAMRADE Attachments have been designed and engineered for Australian conditions and safety standards. RAM Equipment can offer servicing, repairs and spare parts as required.
You can rely on RAM Equipment and RAMRADE Attachments to get the job done. Improve your productivity and drive profitability with our specialised attachments!
Brands
RAM-402015

Pick-up Dimensions: 245-172-45 mm
Weight: 218 kg
Carrier Weight: 4-6 tonne
Width: 1500 mm

RAM-402018

Pick-up Dimensions: 300-200-60/50 mm
Weight: 311 kg
Carrier Weight: 6-10 tonne
Width: 1500 mm

RAM-402020

Pick-up Dimensions: 385-275-65 mm
Weight: 520 kg
Carrier Weight: 12-15 tonne
Width: 1600 mm

RAM-402022

Pick-up Dimensions: 458-330-80 mm
Weight: 868 kg
Carrier Weight: 20-25 tonne
Width: 1800 mm

RAM-402025

Pick-up Dimensions: 509-420-100 mm
Weight: 1159 kg
Carrier Weight: 30-35 tonne
Width: 2000 mm
The RAM Difference – we do more, so you can too!
RAM Equipment is a specialised equipment hire company. Our dedicated team is committed to exceeding your expectations. As your efficient equipment solutions specialists, we will work closely with you to plan and execute your project, ensuring you have the most efficient machines for the job. We also have a wide range of attachments to suit.