Auger Torque Mounting Frames
The Auger Torque Mounting Frames are available to suit Auger Torque Earth Drills in the model range between the X2500 and the 8000 MAX Auger Torque Earth Drills.
Manufactured in Australia
Uses high-grade steel
Compatible with a wide variety of machines
Simply add this attachment to your cart to create an online order. Our team will then be in touch with confirmation of availability and to arrange for delivery. It's that easy.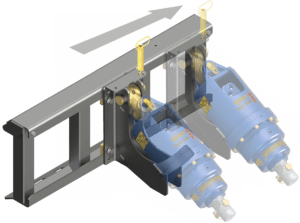 Note: pricing includes GST
Auger Torque Mounting Frames
Auger Torque mounting frames are fabricated in house using high-grade steel. With frames compatible with mini loaders, skid steers and telehandlers, you have the ultimate in flexibility for pairing your parent machine with attachments.
Two options available:
Universal Slide Mount (to suit X2500 to 4500 MAX Auger Torque Earth Drills)
Universal Slide Mount (to suit 5000 MAX to 8000 MAX Auger Torque Earth Drills)
About Auger
Established in Europe in 1998, Auger Torque has created a new market-leading standard in Earth Drills and Trenching Attachments. New and innovative products are designed to provide unrivalled reliability and cost-effective performance.
Drilling or excavating? browse our Auger Torque range for the best deal today.
The RAM Difference – we do more, so you can too!
RAM Equipment is a specialised equipment hire company. Our dedicated team is committed to exceeding your expectations. As your efficient equipment solutions specialists, we will work closely with you to plan and execute your project, ensuring you have the most efficient machines for the job. We also have a wide range of attachments to suit.