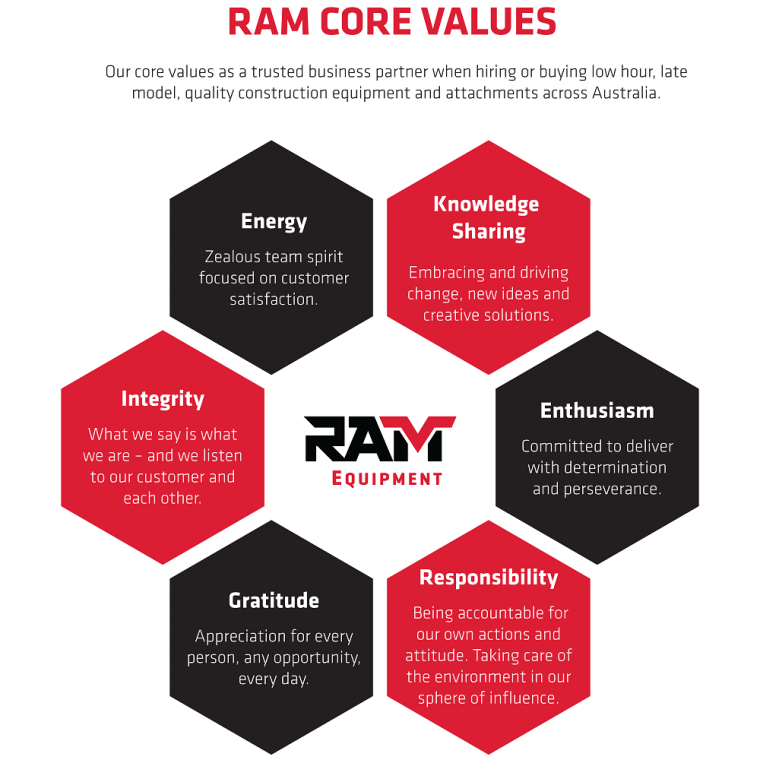 Hiring equipment from RAM provides flexibility in terms of how long you hold onto the equipment, but more importantly lets you choose the size of the machine to best suit your application.
The investment in high quality equipment is a big decision, is it more practical to buy it just to have it on hand when it's needed? Hiring from RAM ensures that you have equipment when and where you need it without adding financial strain on your cash flow.
RAM Equipment have easy rent-to-buy options available for most equipment. No need for massive capital outlays when you can rent-to-buy. Renting equipment from RAM ensures that your capital is preserved for running your business, and the easy weekly or monthly payments keeps booking keeping easy and straight forward.
The construction and civil game is changing with project deadlines and consistently changing – you can rely on RAM Equipment to help you get your job done economically and efficiently.
Our core values as a trusted business partner when hiring or buying low hour, late model, quality equipment and attachments across Australia.
With a lot of our business built on longstanding repeat customers, building long term relationships with our clients is a goal with every transaction and we look forward to working with you.