The Case grader (15T) is designed to meet the needs of any job. With three engine settings and a rear mounted cab, this product has been built with durability in mind!
Load sensing hydraulic system
Transmission torque converter
Optimised weight distribution
Variable power curve
Shock absorbed circle saver
Reduced cab noise
Simply add the equipment and attachments you would like to hire to your cart. Our team will then be in touch with pricing, confirmation of availability and to arrange for delivery. It's that easy.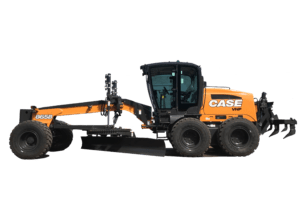 Note: pricing includes GST and a 1% environmental levy
Availability
Brands
Dimensions & Weight

Overall Length: 8,534 mm
Overall Height: 3,340 mm
Overall Width: 3,962 mm
Operating Weight: 15,330 kg

Transport Method

Low Loader
Case grader (15T) 865B
In a market with limited grading options, Case have introduced an all new grader to South Australia! This Case grader (15T) 865B varies from previous graders with a rear mounted cab to increase visibility of the grader blade in its working area. You've got to experience it yourself in order to believe the difference the rear mounted cab makes!
Driveability
Equipped with a load sensing hydraulic system, the precision of a balanced flow for applications and simultaneous moldboard. An A-shape frame provides extra stability and durability for a long operating life. The torque converter uses the transmission to provide a smooth ride for fine grading with the ability to switch to full power mode!
Operator Comfort
The cab operates in a stress free environment with operator comfort as a high priority. Operating with less noise and vibration that improves operator longevity, all in the comfort of a suspended seat behind a steering wheel! The increased size of the cab doors offer a floor to ceiling glass which improves visibility behind the wheel dramatically!
The RAM Difference – we do more, so you can too!
RAM Equipment is a specialised equipment hire company. Our dedicated team is committed to exceeding your expectations. As your efficient equipment solutions specialists, we will work closely with you to plan and execute your project, ensuring you have the most efficient machines for the job. We also have a wide range of attachments to suit.