Get the job done quicker with Digga spreader bars. Includes wear strips and clamps in bucket.
Easy 4-in-1 bucket pickup design.
Suitable for spreading/ levelling soils.
Spreader bars are available in various lengths and widths.
Simply add this attachment to your cart to create an online order. Our team will then be in touch with confirmation of availability and to arrange for delivery. It's that easy.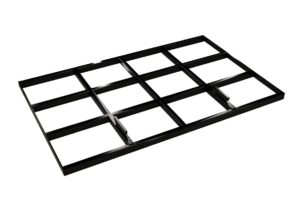 Note: pricing includes GST
Digga Spreader Bar
Spreader bars are designed to level surfaces, filling in the ground as it moves across the surface. The shape of the bar allows for excess material to move along with the skid steer.
A versatile attachment for any skid steer, the Digga spreader bar can help you prepare a surface without using any compaction equipment. At RAM we have a variety of sizes to suit your needs. Call us today for a customised quote.
ABOUT DIGGA
Digga is one of Australia's leading machinery attachment manufacturer since 1981. They stock over 80 different attachments to suit most machine types and have an in-depth knowledge of Australian conditions.
From auger drives, trenchers and more Digga has a great range of attachments for your needs. Browse the selection here. 
The RAM Difference – we do more, so you can too!
RAM Equipment is a specialised equipment hire company. Our dedicated team is committed to exceeding your expectations. As your efficient equipment solutions specialists, we will work closely with you to plan and execute your project, ensuring you have the most efficient machines for the job. We also have a wide range of attachments to suit.