Dynapac Padfoot Drum Roller (12T)
Available from RAM Equipment, the Dynapac 12 Tonne Padfoot Drum Roller is ideal for compacting large areas to considerable depth.
Superior compaction performance
Active bouncing control
Cross-mounted engine
Low noise and low fuel consumption
Map ground condition available
Divided scraper blade
Simply add the equipment and attachments you would like to hire to your cart. Our team will then be in touch with pricing, confirmation of availability and to arrange for delivery. It's that easy.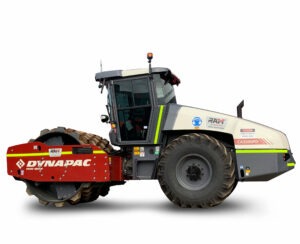 Note: pricing includes GST and a 1% environmental levy
Available from RAM Equipment, the Dynapac 12 Tonne Padfoot Drum Roller  (CA3500PD) is ideally suited for compaction of roads, paths, playgrounds, parking lots, and more. Meanwhile the 190 litre single drum vibratory roller is great for compacting soil at greater depths.
In addition, the ergonomically designed, air-conditioned cab offers a high level of operator comfort and good visibility over the work area and surroundings. What's more, the noise level from the engine is very low.
Also the Dynapac 12 Tonne Padfoot Drum Roller includes a steering module and display cluster. A spin-around seat also allows movement of up to 180 degrees without stress to the neck or body.
Dynapac's double drum asphalt roller range features everything from the most compact equipment for repair jobs to large machines for the biggest sites. In addition, vibration dampened platforms, swivel seats for better visibility, logically sorted controls and Roll Over Protective Structures (ROPS) all contribute to the maneuverability, operator ergonomics, and safety.
For other great rollers, you've come to the right place. All our machinery for dry hire comes with full service and maintenance history and are late-model, low-hour.
Brands
Dimensions & Weight

Overall Length: 5,990 mm
Overall Height: 2,970 mm
Overall Width: 2,304 mm
Drum Width: 2,130 mm
Operating Weight: 13,800 kg

Approximate Fuel Consumption

22L/hr

Transport Method

Low Loader
The RAM Difference – we do more, so you can too!
RAM Equipment is a specialised equipment hire company. Our dedicated team is committed to exceeding your expectations. As your efficient equipment solutions specialists, we will work closely with you to plan and execute your project, ensuring you have the most efficient machines for the job. We also have a wide range of attachments to suit.