Thwaites Power Swivel Dumper (6T)
The Thwaites Power Swivel Dumpers are versatile for many types of terrain to move dirt in an efficient and economical way. These dumpers are perfect for transporting, earthmoving, excavating materials, loading trucks/skips and backfilling trenches.
Maximum payload 6,000 kg
Engine control unit with shutdown monitoring
Folding ROPS
All-drive power swivel
Torque converter four-speed and reverse transmission
70kw/94 bhp
Simply add the equipment and attachments you would like to hire to your cart. Our team will then be in touch with pricing, confirmation of availability and to arrange for delivery. It's that easy.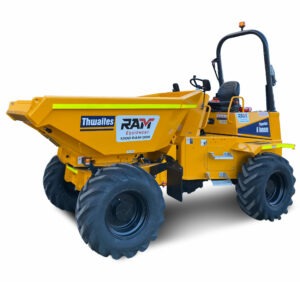 Note: pricing includes GST and a 1% environmental levy
Thwaites Power Swivel Dumper (6T)
The Thwaites Power Swivel Dumper (6 tonne) is perfect for transporting, earthmoving, excavating materials, loading trucks/skips, and backfilling trenches.
Transmission
The Power-shuttle transmission with four gears with a column mounted control lever to drive/reverse, as well as a heavy duty gear driven transfer box. "Powershift" transmission with changes of speed and forward/reverse direction controlled by one column mounted lever.
Skip
The hydraulically Thwaites Power Swivel Dumper operates a fully welded 8 mm steel base plate, reinforced with box section to add strength to minimise skip damage. NO material traps. Thwaites Power Swivel mounted on a ball bearing turntable with powered rotation through 180 degrees by means of slewed twin cylinders, operated by control lever with a single dual-axis. Boasting a safety feature which automatically locks the skip in a central position whilst travelling.
Service Access
All maintenance and servicing is completed in-house at RAM Equipment. With our guarantee to be at your site for repairs to equipment within one working day. We understand how important time is when working on civil construction projects.
Brakes and Axles
Our twin circuit, fully enclosed multi-plate oil immersed discs, mounted on both axles with wear adjustment done automatically. A hand operated parking brake. Epicyclic reduction, heavy duty axles and the half shafts completely floating.
Kinglink Chassis
Front and rear chassis constructed from deep section folded steel plate, with three point Kinglink giving articulation and oscillation for better stability, traction and extra safety on site. Remote greasing point provided for lubrication of top Kinglink articulation pin.
Seating & Controls
Adjustable suspension seat, fitted with high visibility rigid seat belt with adjustable web, accessible from both sides. Audible warning device for handbrake in "on" position, electric horn, large pedal pads, ignition key, park brake and skip controls ready to hand. Super bright LED warning lights visible from the drivers position for all critical functions.
Electrics
Engine control unit with shutdown monitoring. Electronic equipment function includes diagnostic port and tri-function hour meter/ fault code reader/ battery volt meter. Fuse & relay panel housed in easy to access position, with all wiring contained in solid sealed conduit and all electrical components water resistant to IP67 rating.
Steering and Hydraulics
Single gear pump providing hydraulic functions includes priority power steering. Filter mounted on top of the tank accessible from ground level. Hydraulic test point fitted as standard.
To see more information on the Thwaites Power Swivel Dumper, view our specification sheet next to "create your order" and "check availability" above. Otherwise visit the Thwaites Official Website.
Brands
Dimensions & Weight

Overall Length: 5,082 mm
Overall Height: 3,300 mm
Overall Width: 2,280 mm
Operating Weight: 4,480 kg

Range

Maximum Safe Carry Weight: 6,000 kg
Levelled Capacity: 2,550 L
Heaped Capacity: 3,150 L

Transport Method

Tilt Tray
The RAM Difference – we do more, so you can too!
RAM Equipment is a specialised equipment hire company. Our dedicated team is committed to exceeding your expectations. As your efficient equipment solutions specialists, we will work closely with you to plan and execute your project, ensuring you have the most efficient machines for the job. We also have a wide range of attachments to suit.