RAMRADE 5 Finger Rotating Grapple
The RAMRADE 5 Finger Grapple has been designed for precision movements. Its 360° head rotation and large jaw opening makes it one of the most versatile attachments available.
360 degree rotation
Robust, high-strength motor and bearings
Oil flow control valve
Rotating motor protection
Specialily designed swing bearing
Enclosed check valve
Simply add this attachment to your cart to create an online order. Our team will then be in touch with confirmation of availability and to arrange for delivery. It's that easy.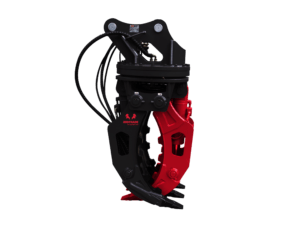 Note: pricing includes GST
RAMRADE 5 Finger Rotating Grapple
Available from RAM Equipment, the 5 Finger Rotating Grapple is ideal for carrying, loading, and unloading rock in mining and demolition applications.
In addition, the RAMRADE 5 Finger Rotating Grapple features a high pressure cylinder with shock absorbing cushion device. It also features a safety check valve to prevent the release of the jaw on materials.
What's more, the operator has control on the rotating speed, allowing them to work efficiently. With its 360 degree head rotation and large jaw opening, the 5 finger rotating grapple is one the most versatile RAMRADE attachments available.
Suits a wide range of excavators including CAT, Kobelco, Hitachi and Kubota from 4 – 35 tonne.
About RAMRADE Attachments
RAMRADE Attachments is a world-class supplier of high-quality attachments to suit your excavator, skid steer, and other earthmoving equipment.
They are manufactured to exceed rigorous global standards, and utilizing the most advanced technology. What's more, these attachments are extensively field and factory tested to produce an outstanding range that consistently delivers. Browse the RAMRADE range. 
Brands
Application
DI-03R

A (H1): 1300 mm
B (W); 1045 mm
C (H2): 870 mm
Capacity: 0.3m2
Excavator weight: 4~6 Tonne
Unit weight: 0.3 Tonne

DI-04R

A (H1): 1460 mm
B (W); 1200 mm
C (H2): 956 mm
Capacity: 0.4m2
Excavator weight: 7~8 Tonne
Unit weight: 0.5 Tonne

DI-06R

A (H1): 1700 mm
B (W); 1350 mm
C (H2): 1140 mm
Capacity: 0.6m2
Excavator weight: 8~13 Tonne
Unit weight: 0.8 Tonne

DI-08R

A (H1): 2050 mm
B (W); 1780 mm
C (H2): 1460 mm
Capacity: 0.8m2
Excavator weight: 18~24 Tonne
Unit weight: 1.4 Tonne

DI-10R

A (H1): 2200 mm
B (W); 1920 mm
C (H2): 1670 mm
Capacity: 1.0m2
Excavator weight: 28~32 Tonne
Unit weight: 1.9 Tonne
The RAM Difference – we do more, so you can too!
RAM Equipment is a specialised equipment hire company. Our dedicated team is committed to exceeding your expectations. As your efficient equipment solutions specialists, we will work closely with you to plan and execute your project, ensuring you have the most efficient machines for the job. We also have a wide range of attachments to suit.