Case wheel loaders are the ultimate in power and torque. These machines deliver horsepower to every work cycle while also providing an unmatched level of productivity with their hydraulics  making them a dream come true for any operator.
Powerful outbreak force
Operator comfort and ergonomics
Low emissions without particulate filter
Reduced fuel cost from friction-less differential
Simply add the equipment and attachments you would like to hire to your cart. Our team will then be in touch with pricing, confirmation of availability and to arrange for delivery. It's that easy.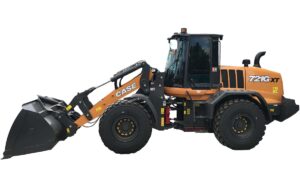 Note: pricing includes GST and a 1% environmental levy
Case Wheel Loader 14T
The Case G series of wheel loaders deliver larger payloads, enhanced cycle times to reduced downtime and save money. With a reliable performing Case engine which lies at the heart of every G series. The wheel loader packing the highest horsepower in its class to deliver excellent torque and power.
As always for Case, boasting high visibility in the front, in the rear, and at night with LED lighting. Operator comfort and safety is yet another way that Case offer their solutions with the customer in mind.
More options of wheel loaders are provided by RAM Equipment. Browse our wheel loader selection to get the right equipment for the job
For more information on the Case Loader, visit the regional CASE Construction Equipment website.
Check out our sister company to get your excavator, skid steer, and compact track loaders attachments from RAMRADE Attachments!
The RAM Difference – we do more, so you can too!
RAM Equipment is a specialised equipment hire company. Our dedicated team is committed to exceeding your expectations. As your efficient equipment solutions specialists, we will work closely with you to plan and execute your project, ensuring you have the most efficient machines for the job. We also have a wide range of attachments to suit.