Himac's skid steer pallet fork attachment provides all of the advantages of a forklift whilst avoiding the poor visibility issues forklift drivers are plagued by.
Tested and certified to comply with Australian Standard AS2359
Heavy duty load guard
Easy hook up with no hinging tynes
Adjustable latch locked tynes
Most popular style of forks in the industry
Universal Skid Steer mount as standard
Simply add this attachment to your cart to create an online order. Our team will then be in touch with confirmation of availability and to arrange for delivery. It's that easy.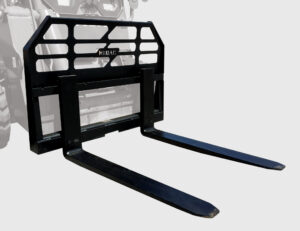 $47.00 - $47.00$1,902.00 - $2,667.00
Note: pricing includes GST
Himac Fork Tynes
The Himac Fork Tynes set, features a universal mount to make sure that pallet forks suit all skid steers and loaders.  It is constructed with a highly visible, heavy duty load guard and has a tested and certified load rating that complies with Australian Standard AS2359.
For other Himac skid steer attachments, you've come to the right place. Have a look at our range here.
The RAM Difference – we do more, so you can too!
RAM Equipment is a specialised equipment hire company. Our dedicated team is committed to exceeding your expectations. As your efficient equipment solutions specialists, we will work closely with you to plan and execute your project, ensuring you have the most efficient machines for the job. We also have a wide range of attachments to suit.