The Himac Skid Steer Rock Breaker is a low maintenance hammer, allowing you to turn soil into manageable and scoop-able material , so you can get to task quicker than ever.
Tie-rodless hammer design
Vibration and sound suppressed as standard
No specialist tools required for maintenance
Heavy duty box design
Includes hoses & 2 moils
Made in UK
Simply add this attachment to your cart to create an online order. Our team will then be in touch with confirmation of availability and to arrange for delivery. It's that easy.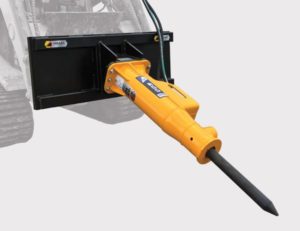 Note: pricing includes GST
Himac Rock Breaker 
The Himac Rock Breaker features a heavy duty box design to withstand the unique operation angles of skid steers.
It can easily tackle any demolition task with oversized isolators located in the hammer box to ensure vibration is contained, protecting both the machine and operator from vibration.
It also features three moving parts and no tie rods, making it a robust, reliable and power attachments suited for any skid steer.
If you can't find what you need browse our extensive range of track loader attachments.
Brands
Application
Himac Rock Breaker (55mm)

HP: 34 – 70
Max BPM: 1250
Required Flow (LPM): 40 – 60

Himac Rock Breaker (65mm)

HP: 75 – 110
Max BPM: 1200
Required Flow (LPM): 45 – 70
The RAM Difference – we do more, so you can too!
RAM Equipment is a specialised equipment hire company. Our dedicated team is committed to exceeding your expectations. As your efficient equipment solutions specialists, we will work closely with you to plan and execute your project, ensuring you have the most efficient machines for the job. We also have a wide range of attachments to suit.