The Himac Stick Rake provides amazing vegetation control with its heavy duty build and side wings.
Robust construction with side wings
Ideal for clearing vegetation, fence lines... etc
High grade steel tynes
155 mm spaced tynes
Rear tyne stabilisers for support when standing
Tynes feature curved front
Universal Skid Steer mount
Simply add this attachment to your cart to create an online order. Our team will then be in touch with confirmation of availability and to arrange for delivery. It's that easy.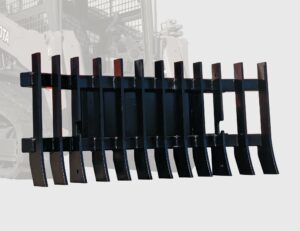 Note: pricing includes GST
Himac Stick Rake
The Himac rake is a unique skid steer attachment designed for clearing land, fence lines, debris and other vegetation. The spacing between the tynes provides excellent sifting to minimise waste and maximise productivity.
Australian designed and made, this stick rake is designed for our harsh conditions and uses the highest quality of materials. You can be confident throwing your skid steer's power behind this stick rake through challenging vegetation time and time again.
For a larger variety of attachments, browse our range!
Brands
Application
Tynes

Standard (1800 – 2100mm): 16mm
Heavy Duty (1800 – 2400mm): 20mm
The RAM Difference – we do more, so you can too!
RAM Equipment is a specialised equipment hire company. Our dedicated team is committed to exceeding your expectations. As your efficient equipment solutions specialists, we will work closely with you to plan and execute your project, ensuring you have the most efficient machines for the job. We also have a wide range of attachments to suit.