John Deere Grader (17.5T)
This John Deere grader comes with a 14 foot blade and boasts exceptional balance with it's improved performance specs. With more maximum capability, this grader will help you do your level best.
Unlimited grade control
Increased engine horsepower, torque and blade pull
Eco mode to save fuel
All round visibility
Easy access park brake
LCD hi-vis monitor streamlines access to vital data
Simply add the equipment and attachments you would like to hire to your cart. Our team will then be in touch with pricing, confirmation of availability and to arrange for delivery. It's that easy.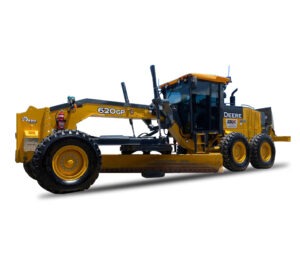 Note: pricing includes GST and a 1% environmental levy
Brands
Dimensions & Weight

Overall Length: 10,590 mm
Overall Height: 3,400 mm
Overall Width: 2,940 mm
Operating Weight: 17,500 kg

Approximate Fuel Consumption

12-14L/hr

Transport Method

Low Loader
John Deere Grader 620GP (17.5T)
This John Deere grader is perfect for the civil construction industry and the need for earthmoving equipment. The grader can tackle slanted, curved, or even inverted landscapes to clear any levelled fluctuations.
Industry-First SmartGrade™ Configurations.
John Deere SmartGrade Motor Graders are fully integrated and calibrated from the factory, arriving at your jobsite ready to work. Integration into the SmartGrade cabin and structures helps shield key grade-control components such as wire harnesses and sensors from damage and theft.
Controls
Eight arm-rest mounted, fingertip-actuated controls, including lever steer, are arranged in the industry-standard pattern on each side of the standard steering wheel. The John Deere grader has dual-joystick controls that require significantly less wrist motion to articulate the motor grader than competitive joystick controls.
Engine
The EPA FT3/EU Stage IV engine. Auto shutdown turns off the engine after an operator-determined period of time. Saves fuel and reduces wear on engine, transmission, and hydraulic components.
Productivity
Optional Premium Circle: The industry-leading design features a fully sealed bearing and pinion, reducing operating costs while delivering 40-percent more torque and 15-percent more speed than a traditional circle.
Increased engine horsepower, torque, and blade pull produce generous power and lugging ability, to deliver more power to the ground, easily pull through tough spots, or tackle steep hills. Horsepower and torque are optimized for each gear to maximize performance no matter your application.
Visibility
All around visibility is virtually unobstructed with a clear view to the heel and toe, and behind the mouldboard.
To find out more information on this grader scroll up to view the specification sheet, otherwise to see more of our John Deere equipment, click here.
For even more information visit the John Deere Official Website.
The RAM Difference – we do more, so you can too!
RAM Equipment is a specialised equipment hire company. Our dedicated team is committed to exceeding your expectations. As your efficient equipment solutions specialists, we will work closely with you to plan and execute your project, ensuring you have the most efficient machines for the job. We also have a wide range of attachments to suit.