The RAMRADE Stump Splitter has been designed for splitting wood, timber and tree stumps. It features twin ripper style fingers on the beak for pulling stumps up and a hydraulic ram able to force down on timber.
Heavy-duty design
Hydraulic ram protection
Fast cycle time
Heavy-duty replaceable shear blade
Simply add this attachment to your cart to create an online order. Our team will then be in touch with confirmation of availability and to arrange for delivery. It's that easy.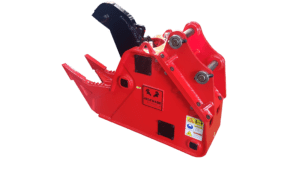 $223.00 - $223.00$14,179.00 - $14,179.00
Note: pricing includes GST
RAMRADE Stump Splitter
Available from RAM Equipment, the RAMRADE stump splitter is ideal for splitting wood, timber, and tree stumps. Save tons of time and money by processing and downsizing wood and stumps. Make fewer trips to haul this debris away. It features twin ripper style fingers on the beak for pulling stumps up and a hydraulic ram able to force down on timber.
Made from AR400, the stump splitter features a hardened cutting edge and dual bevel geometry. Additionally, the stump splitter has hardened Alloy Steel making it virtually unbreakable. Initially available to suit 5 ton and 8 tonne excavators with more sizes to come. Suits a range of excavators including CAT, Kobelco, Hitachi and Kubota.
RAMRADE Attachments
RAMRADE Attachments is a world-class supplier of high-quality attachments to suit excavators, skid steers and other earthmoving equipment. Manufactured to exceed rigorous global standards and utilising the most advanced technology, our attachments are extensively field and factory tested to produce an outstanding result that consistently deliver.
Introduced to Australia in 2014, RAMRADE Attachments have established a strong market presence with equipment hire companies, civil and construction contractors, demolition, earth moving and recycling/waste companies.
Backed with technical support and industry leading warranty terms, RAMRADE Attachments have been designed and engineered for Australian conditions and safety standards. RAM Equipment can offer servicing, repairs and spare parts as required.
You can rely on RAM Equipment and RAMRADE Attachments to get the job done. Improve your productivity and drive profitability with our specialised attachments! Follow the link to view more RAMRADE Attachments.
Brands
YST050

Pick-Up Dimensions: 245-145-45 mm
Carrier Weight: 3-5 tonnes
Open Jaw Width: 445 mm
Max Oil Pressure: 3000 PSI
Weight: 500 kg
The RAM Difference – we do more, so you can too!
RAM Equipment is a specialised equipment hire company. Our dedicated team is committed to exceeding your expectations. As your efficient equipment solutions specialists, we will work closely with you to plan and execute your project, ensuring you have the most efficient machines for the job. We also have a wide range of attachments to suit.