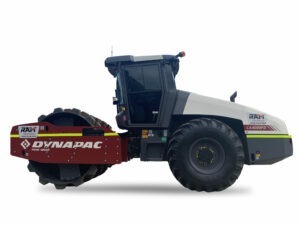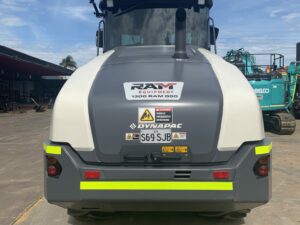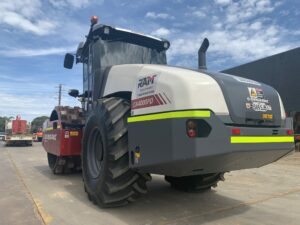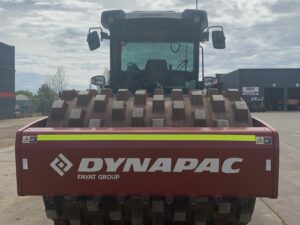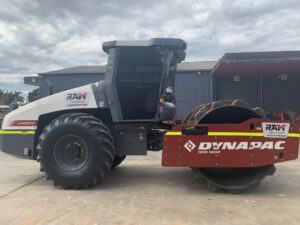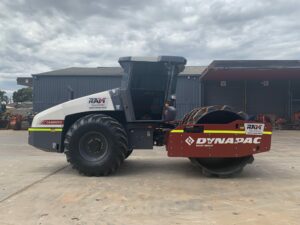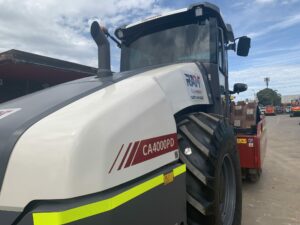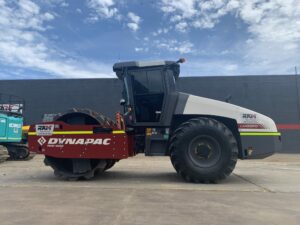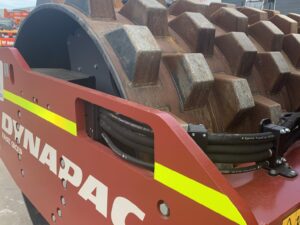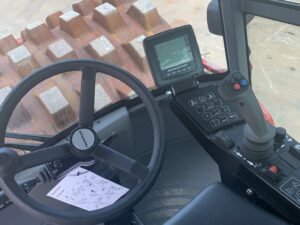 Dynapac Padfoot Drum Roller (14T)
Available to hire from RAM Equipment, the Dynapac 14 tonne padfoot drum roller is a medium heavy vibratory soil compactor, designed for long days in tough applications. The 35mm thick drum shell ensures excellent resistance to wear.
Foldable ROPS
Spacious operator platform
Central lifting point
Powerful and silent 3 cylinder water cooled diesel engine
Serial connected drum drive
Fail-safe brakes
Simply add the equipment and attachments you would like to hire to your cart. Our team will then be in touch with pricing, confirmation of availability and to arrange for delivery. It's that easy.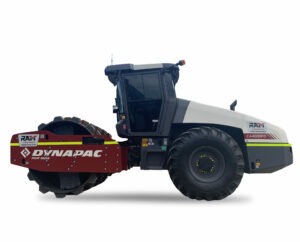 Note: pricing includes GST and a 1% environmental levy
Dynapac 14 Tonne Padfoot Drum Roller CA4000PD
The Dynapac 14 Tonne Padfoot Drum Roller (CA4000PD) has static linear loads in steps of 5 kg/cm. This, combined with an optimum high amplitude, enables you to compact rockfill down to 1.65 meter with a Dynapac CA4000PD. The better depth effect means higher volume capacity and less passes to reach compaction specifications, thus saving fuel and reducing cost.
Environmental impact is also lower. If the roller is equipped with the Dynapac "Silent Weights" eccentric concept, this enhances compaction performance even further.
In addition the Dynapac 14 Tonne Padfoot Drum Roller also incorporates Active Bouncing Control, preventing damage and prolongs the life time of the roller by eliminating drum double jump oer over compaction.
With a spacious ergonomically designed cabin and good visibility, the machine takes the strain and makes working inside feel like your second home.
Job Site Confidence
Ensure the health and safety of your team when working onsite. The Dynapac 14 Tonne Padfoot Drum Roller has easy-to-use operating systems for excellent working safety and ergonomics. The operator has an adjustable 180 degree swivel station to ensure a clear view in every direction. Never have your instruments and steering wheel behind you. With Dynapac's technology, achieve the optimum performance while compacting materials.
Maximum Uptime
An excellent light package to improve productivity at night with additional step lights and a red lit cab. With daily checks and services displayed on the monitor in the cabin, it makes life easy to keep track of the vehicles' maintenance needs. Optimised cartridges with added eccentrics, and use of less oil volumes than previous models.
High Productivity
The Dynapac Compaction Meter with Active Bouncing Control (ABC) shows real-time compaction achievement. Not to forget the Dynapac 14 Tonne Padfoot Drum Roller Dyn@Lyzer to document information on a cloud based system.
Environment & Sustainability
Keep tabs on the cost for every cubic meter of soil compacted, joined by low noise emissions helped due to the transverse mounted engine. An ECO-mode to help operators manage their fuel consumption and CO2 footprint with idling functions. The Dynapac roller has excellent working lights using LEDs latest technology to save environmentally.
Dynapac's double drum asphalt roller range features everything from the most compact equipment for repair jobs to large machines for the biggest sites. In addition, vibration dampened platforms, swivel seats for better visibility, logically sorted controls and Roll Over Protective Structures (ROPS) all contribute to the maneuverability, operator ergonomics, and safety.
For other great rollers, you've come to the right place. All our machinery for dry hire comes with full service and maintenance history and are late-model, low-hour.
Brands
Dimensions & Weight

Overall Length: 5,990 mm
Overall Height: 2,970 mm
Overall Width: 2,300 mm
Drum Width: 2,130 mm
Operating Weight: 21,100 kg

Approximate Fuel Consumption

25.5L/hr

Transport Method

Low Loader
The RAM Difference – we do more, so you can too!
RAM Equipment is a specialised equipment hire company. Our dedicated team is committed to exceeding your expectations. As your efficient equipment solutions specialists, we will work closely with you to plan and execute your project, ensuring you have the most efficient machines for the job. We also have a wide range of attachments to suit.