RAM Equipment is the Simex Authorised Dealer in South Australia
We are pleased to announce that we are the Simex new authorised dealer in South Australia.
Simex is a world leader in the production of earthmoving attachments used to perform compaction, crushing, milling and a whole lot more. Designed and produced in Italy, Simex products are engineered for exceptional durability and high-performance.
Why choose Simex
Simex attachments solve specific problems related to the mryiad applications they are used for, and guarantee highly efficient production for the end user. The company continually produces innovative solutions for the many, and increasingly complex demands of the market.
Our Simex range includes rotary cutters, crusher buckets, vibrating compactor wheels and self-leveling profilers.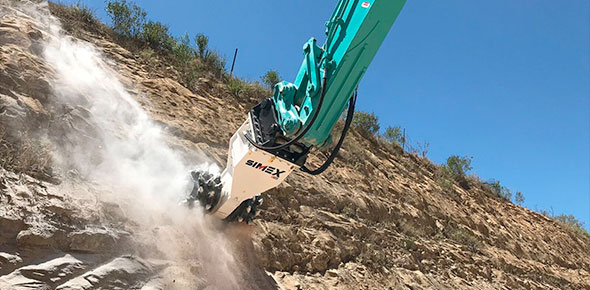 The RAM Difference
Our commitment to constantly provide innovative equipment solutions to the most challenging applications in the construction and earthmoving sectors, allow our customers to work more efficiently, faster and, most importantly, safer.
RAMRADE Attachments
In an industry that is still realising the HUGE time and cost-saving benefits that can be achieved from using attachments, RAMRADE Attachments offers a wide range for excavators and skid steers.
We stock a wide range of attachments to help improve your project's productivity and drive profitability. Whether the job is demolition, crushing, excavation, quarrying, road maintenance, trenching, resurfacing or profiling, RAM Equipment has the ideal equipment for you.
Call us today to discuss your project requirements and challenges. Our team will advise you on the most suitable equipment and attachments for the job.
Hire or Buy efficient equipment solutions… when it matters!