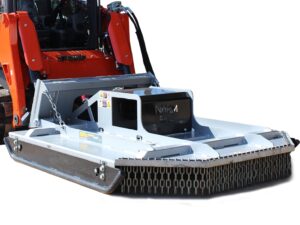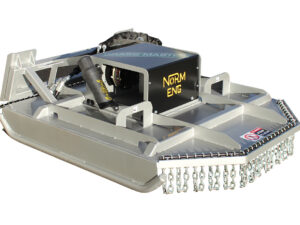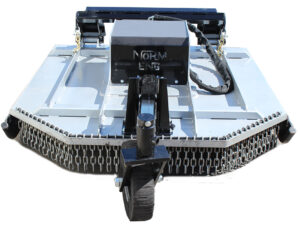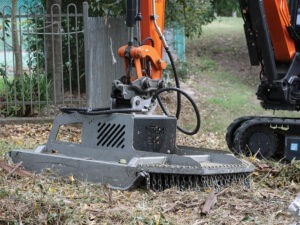 Norm Engineering Grass Slasher
The Norm Engineering Grass Slasher transforms your skid steer into a large scale slasher/lawnmower, negating the need for a commercial stand-alone slasher.
Gearbox drive system
Reinforced heavy duty deck
Aussie designed and manufactured
Floating mount frame to follow contours
Adjustable and replaceable heavy duty side skids
Maximum cutting torque and tip speed
Hydraulic motor protection ensured through spring clutch
Meets Australian design requirements
Chain protection: front and rear
Optional jockey wheel
Simply add this attachment to your cart to create an online order. Our team will then be in touch with confirmation of availability and to arrange for delivery. It's that easy.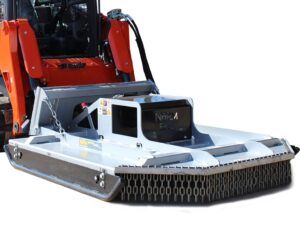 Note: pricing includes GST
Talk about versatility! The Norm Engineering Grass Slasher transform your skid steer into the ultimate industrial size lawnmower/grass slasher.
ABOUT NORM ENGINEERING
Since 1984 Norm Engineering, a 100% Australian family-owned business, has designed and built earth moving attachments for Mini Loaders, Skid Steers, Excavators, Backhoes and Telehandlers.
Looking for other great Norm Engineering products? You've come to the right place! Browse selection of brooms, buckets and more. 
Brands
Application
Universal Hitch

Weight: 490 kg
Width: 1650 mm
Depth: 2000 mm
Height: 560 mm

Excavator Hitch

Weight: 510 kg
Width: 1650 mm
Depth: 2000 mm
Height: 720 mm

Excavator and Skid Steer Hitch

Weight: 570 kg
Width: 1650 mm
Depth: 2000 mm
Height: 720 mm
The RAM Difference – we do more, so you can too!
RAM Equipment is a specialised equipment hire company. Our dedicated team is committed to exceeding your expectations. As your efficient equipment solutions specialists, we will work closely with you to plan and execute your project, ensuring you have the most efficient machines for the job. We also have a wide range of attachments to suit.